What We Did – Motorbike, Plane, Train & Car!
Whether it's travelling by car or motorbike, train or plane, travelling is a real joy as you get to experience so many different places.
Aside from riding across the USA (from LA, California to Miami, Florida) we also spent a day in Washington and a week in New York.
From New York we flew to San Francisco and stayed a couple of days.
We hired a car when we flew into San Francisco Airport and drove that down to LA.  We did that as insurance against bad weather – at least we'd have  3-4 days to get from New York to LA if we were delayed getting out of New York.
Car Hire Bonus
In one of those beautiful bits of serendipity I rocked up to the car hire counter of Hertz at San Francisco to collect my generic small car that I'd booked.
That's when the car hire lady said these beautiful words:
"Would you like to upgrade for just $20 a day……..to a Mustang?"
Would we ever!
We hit the road and eventually drove down the gorgeous coast road to LA.  What a car and what a drive!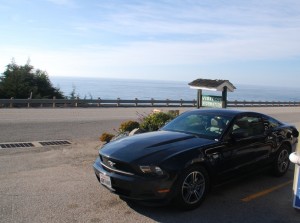 If there's one drive you'll love, it's the drive down that magnificent coastal road.
Beautiful scenery and a great road.  In what is going to sound like the words of a spoilt child, it could only have been better if we'd ridden he motorbike down the road rather than the car!